Welcome to Spencer County
Solid Waste Management District
The Spencer County Solid Waste Management District provides environmental programs to encourage recycling and to divert solid waste in Spencer County, Indiana from landfills. The District works to educate Spencer County residents and businesses with information on recycling programs and educational materials for schools and waste audits for businesses within the county.
In addition to the business recycling initiatives, the Spencer County Solid Waste Management District also provides a road-side litter program for any organization or individual wishing to collect trash from the county roadways.
Why should I Recycle?

Saves Money: Residents that dispose of their trash at the District's Drop-Off Centers could reduce their disposal cost by 50%, if not more, by recycling.
Saves Energy: Throwing away an aluminum can wastes as much energy as pouring out a can half-filled with gasoline.
Recovers Valuable Material: A 2-liter soda bottle or water bottle can be recycled (re-manufactured) into carpeting, clothing or another bottle. Milk jugs are used to make plastic lumber. Newspaper is used in insulation products. The list of products that are manufactured using recycled products is vast and is still growing.
Generates Less Pollution: Making paper from recycled paper reduces the pollution involved in the paper-making process by 95%.
Invest In Spencer County: Recycled material is processed and sold to provide revenue for all the programs and services that the District offers. Instead of paying a hauler to take your trash to a landfill, recycle and keep your money in Spencer County.
Still Need a Landfill?
Advanced Disposal/Veolia (Blackfoot) Landfill
Pike County Indiana (888)827-2565

Grimes Avenue Transfer Station
Owensboro, KY (270)688-8138

West Daviess County Landfill
Owensboro, KY (270)229-4484

Velpen Construction & Demolition Landfill
Velpen, IN Toll-Free (877)976-2144
Business Recycling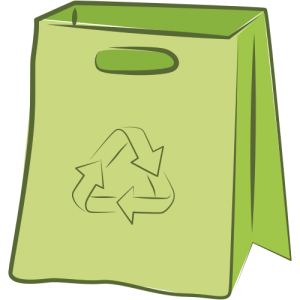 Businesses in Spencer County can save money by recycling. By generating less trash a business can save money on disposal cost.
Paper comprises the largest percentage (about 40% by weight) of the waste stream. Most types of paper found in offices are recyclable.
Paper Examples include: • computer and copier paper • mixed colored office paper • shredded paper • newspapers • magazines/catalogs • unwanted mail (including window envelopes) • corrugated boxes • paperboard boxes.
Call the Spencer County Solid Waste Management District for information on waste audits and presentations. All pick-ups are free and depending on the waste audit and the needs of the business, most of the containers needed to start a workplace recycling program can be furnished by the District.
Road-Side Litter
Residents are encouraged to take pride in Spencer County by pitching in and clean up the litter and trash along our county roads.
The District provides FREE orange trash bags and FREE disposal to any group or individual that clean our roadsides. Bags are available at any of the Drop-Off Centers in the County. (Click here for locations).
Filled orange bags must be brought to one of the Drop-Off centers.  Do not leave the bags along the roadside,  they will not be picked up by county employees. Watch for special promotions in the Spring of the year and how you can participate in our "BAG-IT" program.
Please note: external sites linked through this page are not maintained or controlled by the Spencer County Solid Waste Management District. Though we believe the content to be of value, we cannot assume responsibility. Should the content be in any way unacceptable, please notify us at recycle@psci.net
Still Need a Landfill?
Advanced Disposal/Veolia (Blackfoot) Landfill
Pike County Indiana (888)827-2565

Grimes Avenue Transfer Station
Owensboro, KY (270)688-8138

West Daviess County Landfill
Owensboro, KY (270)229-4484

Velpen Construction & Demolition Landfill
Velpen, IN Toll-Free (877)976-2144